Put a lil Spycè in your life!
Here are the pictures! Everyone and every one out there - look at these keepsakes!


What are your plans for the millenium?
Or how about the millenium clock? Countdown Clocks Int'l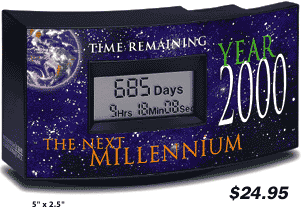 Webmasters and every company (not to mention individuals) need to prepare for the year 2000.


This is a neat, once-in-a-lifetime idea. A special map for the millenium. Get the map
Developed with National Geographic, the most trusted name in map-making
Special collector's edition printed on archival paper in a commemorative box
Two large wall maps (39" x 27") in one: a contemporary political map and a map of the known world as of 1000 A.D.
Fascinating perspectives on the millennium
A legacy for generations to come
Check it out today.


Go to Y2K with a lil Spycè.

Spycè Gifts | Spycè's Library | FUN | Music and Movies | MUST see! | Fun Food |
Halloween | Cyber Cards | Great Links | Vets Links


This website is RSAC rated!
---
Need some info? Write me!

Y'all come back now, heah?
---