Put a lil Spycè in your life!
Navy links | Links | Vets Resources |
Patriotic Posters & Documents | WWII Books, Movies, CDs | Entrance | Family


Welcome.

We have a variety of Navy resources and information here. This page is dedicated to my dad. (For other branches of the military, Click here.)

I plan to keep adding more resources for all military veterans and those interested in such. Note: All external links will open in a separate browser window.

I have a tribute page at Military.com. They have a lot of resources and information there!

Here's a new place to connect with other veterans - VetServer. It's free to register!
I'd appreciate it if you would use my referrer ID# 5454393746. Thanks!





My dad was a veteran of WWII in the Navy.
He served on the USS Forrest DD461/DMS-24.
From his records, it appears that he was on the Forrest from about April 1943 thru July 1945 - but he did tell me that he was not on board when it was hit off Okinawa.
So I don't know for sure.
I don't know how long Basic Training was when he joined in November 1942 but he also went to a school for Fire Control Man in Newport, R.I. for 17 weeks.
At the end of his tour, he was in Little Creek, VA at "MIN CRA TRA CEN" (whatever THAT is) and then
in some training at TADC Camp Peary, Wim, VA for 18 weeks (for Electrician Mate).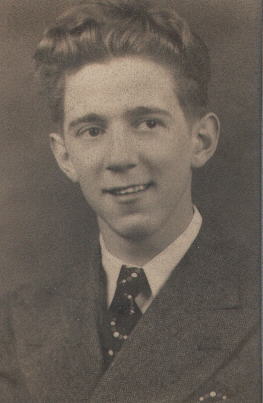 11/05/23 - 08/25/97

After training in Casco Bay, Maine, she joined the Ranger group for patrol duty out of Argentia, Newfoundland, between 17 May and 24 July 1943, then replenished at Boston for the crossing to Scapa Flow Orkney Islands. From this base of the British Home Fleet, the Ranger group patrolled in search of German naval forces, and on 4 October struck with great success at the shipping and shore installations at Bodo, Norway. In October she sailed south to join the escort for a British carrier returning from the Mediterranean to Scapa Flow, and in November sortied in a combined task force to patrol the northwest coast of Norway covering the passage of a convoy to Russia.

Returning to Boston for brief overhaul 3 December 1943, Forrest spent the months of January and February 1944 training pre commissioning crews for new destroyers, and escorting the new Hornet (CV-12) during her shakedown training off Bermuda. Between 7 March and 2 April, she patrolled the Atlantic with the hunter-killer group headed by Guadalcanal (CVE-60).

Forrest sailed from Norfolk 20 April for Northern Ireland, and took up escort duties around the British Isles as men and ships were concentrated for the Normandy invasion. When bad weather postponed the landings, originally intended for 5 June, Forrest was sent out on 4 June to recall convoys which had already sailed, bound for Utah Beach.

During the actual invasion of 6 June, she screened transports lying in the Baie de la Seine, and on 12, 16, and 17 June, she bombarded shore targets to aid the troops advancing ashore. After escorting battleships to Plymouth, England, 18 June, Forrest returned to the assault area 21 June to cover sweeping operations off the Cotentin Peninsula. She engaged shore batteries on 22 and 24 June, returning to Portland, England, the next day.

Four days later Forrest got underway for Belfast, Oran, and Taranto, from which she sailed 11 August 1944 for the invasion of southern France, arriving in the inner fire support area off St. Tropez 15 August. For the next 2 months, she escorted convoys from Palermo, Naples, Ajaccio, and Oran to the southern coast of France, guarding the men and supplies which made the push northward possible. She returned to Norfolk 8 November for conversion to a highspeed minesweeper.

Forrest trained in Chesapeake Bay for Pacific duty, for which she sailed 17 January 1945, calling at San Diego and Pearl Harbor for further training and arriving Ulithi 9 March 1945. Ten days later she sortied for minesweeping operations to clear Okinawa waters for the assault on 1 April, after which she served in patrol, screened smaller minesweepers, performed local escort missions, and carried out the usual multiplicity of destroyer assignments in the usual seamanlike way of the versatile destroyer. Several times she assisted ships stricken by kamikaze attacks, and on 27 May her own turn came.

Three enemy aircraft were sighted, two of which she downed. The third, however, crashed her starboard side at the waterline, killing 5 and wounding 13 of her men. As damage control and fire fighting measures were being taken she headed for Kerama Retto and repairs.

Forrest sailed from Okinawa 25 June 1945 for the east coast, reaching Boston 6 August 1945. There she was decommissioned 30 November 1945, and sold 20 November 1946.
Forrest received six battle stars for World War service.

Namesake: Dulany Forrest entered the Navy as a midshipman 22 May 1809, and served in the frigates President and Essex.
Attached to the Lake Erie Station in the War of 1812, Acting Lieutenant Forrest was severely wounded while serving in flagship Lawrence in the Battle of Lake Erie 10 September 1813.
His gallant action won him commendation from Commodore O. H. Perry Following the war he served in Java and John Adams, and commanded schooners Beagle and Porpoise in the campaign against West Indies pirates. Lieutenant Forrest died while in command of the store ship Decoy in the Caribbean 1 October 1826.
Source: Dictionary of American Naval Fighting Ships (Published 1963).

For more details about the Forrest, Click Here!

It was commissioned on January 13th, 1942 and converted to a Fast MineSweeper (DMS 24) in 1944.

To see a photo of the USS Forrest, Click here!!

According to the insignia on his uniforms, my dad was an Electrician's Mate and an E-4 rate.

"Electrician's Mate (EM): The operation and repair of a ship's or station's electrical power plant and electrical equipment is the responsibility of EMs. They also maintain and repair power and lighting circuits, distribution switchboards, generators, motors and other electrical equipment. "

Before his death - he wanted us to try to find a ship's book for him. We tried but did not locate one.

I'm still looking in case any of you has any suggestions!!

Please email me if you do (or if you just want to write! *smile*)

---
There are a lot of online resources (and more all the time) - so I'll provide some offline ones that may be useful to you.


For muster rolls from 1939 to 1966 or for deck logs from 1941 to 1969, write to:

National Archives
Archives II
8601 Adelphi Road
College Park, Md. 20740-6001

WWII war diaries, action reports, and submarine war patrol reports have been transferred to:

Textual Reference Branch
National Archives and Records Administration
8601 Adelphi Road
College Park, MD 20740-6001

For deck logs from the earliest times through 1940 write to:

Old Military and Civil Records
Natonal Archives and Records Administration
700 Pennsylvania Avenue NW
Washington, DC 20408

---

Well, how nice! This site has received an award!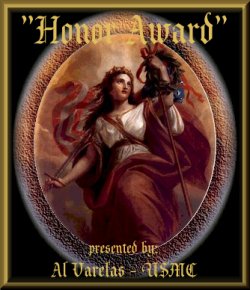 Al bestows his award - no one can apply for it.
Speaking of awards -
here's information on how to find out/obtain military awards for the Navy:
Obtaining Personal Awards, Unit Awards,
and Replacement Medals
To obtain copies of awards earned, write to the National Personnel Records Center at the below address. This office will identify any awards you've earned and provide replacement awards as necessary. It is helpful to include a copy of your Discharge Certificate (DD 214). If a DD 214 is not available, include your full name, service number, social security number, date of birth and as much additional pertinent information as possible.
Navy Liaison Office
National Personnel Records Center
9700 Page Avenue
St. Louis, MO 63132-5100

To obtain information about unit awards earned, contact the Chief of Naval Operations, Awards and Special Projects Branch at the below address. This office can identify awards earned by Navy units.


Chief of Naval Operations
Awards and Special Projects Branch (Code N09B33)
2000 Navy Pentagon
Washington, D.C. 20350-2000

Veterans are entitled to one replacement set of their medals. To request medals, send a Standard Form 180, which can be obtained from the National Personnel Record Center web site (http://www.nara.gov/regional/mprsf180.html), to the Naval Liaison Office, National Personnel Records Center, 9700 Page Boulevard, St. Louis, Missouri 63132-5100. Please write "Do not open in mailroom" on the outer envelope.
---
Just found a site that has information on a special award for all who served during the Cold War era (Sept. 2, 1945 to Dec. 26, 1991). If you did, you can request one from the Cold War Recognition Certificate site.


Navy Veteran's Organizations
Navy Websites
Email me!!


I'm sure there are some of you looking for special books - perhaps Civil War buffs, WWII vets, and more.
Take a look at WWII books, movies, posters, music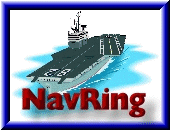 This NavRing site is owned by Spycè.

Click for the [ Next Page | Skip It Next 5 ]

Want to join the ring? Click here for info.
If you're in the Washington DC area, you can visit the Navy Yard!
Here's a list of resources there:

Operational Archives Branch (Building 57, 3rd floor)
Ship's History Branch (57, 1st floor)
SeniorHistorian/Contemporary History Branch (57, 2nd floor)
Director of Naval History (57, 2nd floor)
Navy Department Library (44, 1st floor)
Curator Branch/Photo Section (108, 2nd floor)
Early History Branch (1)
Aviation History Branch (157)
Navy Museum (76)
Navy Art Gallery (67)

Most of them are open from 9 a.m. to 4 p.m. weekdays (except Federal Holidays).
To find your way around - Map of Navy Yard.

My dad was NOT a Navy Seal - but I like the gif! *grin*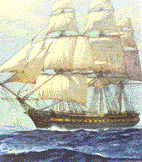 Calm Waters to you!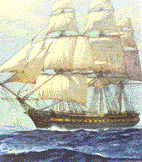 Now, the next page has some things my dad enjoyed! So, take a look...



My dad was an electrician - loyal UNION member of IBEW local #10 - so I'm gonna try to find some of those sites too.

Do You Like This Website? Click here to Recommend-It (tm) to a Friend or Colleague!


Entrance | Links | Vets Resources |
Patriotic Posters & Documents Family | Cooking with a lil Spycè | Get paid to surf

Site design by Spycè

---
World War II - USS Forrest DD461-DS24 - U.S. Navy - WWII