Make dentist appointment!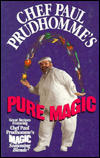 Chef Paul Prudhomme's Pure Magic: Great Recipes Featuring Chef Paul's Magic Seasoning Blends


---
Get this cookbook!
Yo Blacken This: Hell's Kitchen Meets the French Quarter at the Delta Grill
by Mary Beth Roberts & Paul Prudhomme

Place your order now!

Andouille is the Cajun smoked sausage so famous nationally today. Made with pork butt, shank, and a small amount of pork fat, this sausage is seasoned with salt, cracked black pepper and garlic. The andouille is then slowly smoked over pecan wood and sugar cane. True andouille is stuffed into the beef middle casing which makes the sausage approximately one and a half inches in diameter. When smoked, it becomes very dark to almost black in color. It is not uncommon for the Cajuns to smoke andouille for seven to eight hours at approximately 175 degrees.
8 lb Pork Butt -- cubed
2 lb pork fat
1/2 c garlic -- no germ
4 tbsp salt
1 tsp ground pepper
1/4 tsp cayenne
1/4 tsp chili powder
1/4 tsp mace
1/4 tsp allspice
2 tsp thyme -- chopped fine
1/2 tsp sage -- dried
Combine dry ingredients. Mix with meat. Pass through large plate one time. Add liquid and mix well. Pipe into 12" links.

- - - - - - - - - - - - - - - - - - - - -
Andouille #2
Traditionally, the andouilles from France were made from the large intestines and stomach of the pig, seasoned heavily and smoked. In parts of Germany, where some say andouille originated, the sausage was made with all remaining intestines and casings pulled through a larger casing, seasoned and smoked. It was served thinly sliced as an hors d'oeuvre.
5 pounds pork butt
1/2 pound pork fat
1/2 cup chopped garlic
1/4 cup cracked black pepper
2 tablespoons cayenne pepper
1 tablespoon dry thyme
4 tablespoons salt
6 feet beef middle casing (see butcher or specialty shop)

Cube pork butt into 1 1/2 inch cubes. Using a meat grinder with four one-quarter inch holes in the grinding plate, grind pork and pork fat. If you do not have a grinding plate this size, suggest hand cutting pork butt into one-quarter inch square pieces.
Place ground pork in large mixing bowl and blend in all remaining ingredients. Once well blended, stuff meat into casings in one foot links, using the sausage attachement on your meat grinder. Tie both ends of the sausage securely using a heavy gauge twine.
In your homestyle smoker, smoke andouille at 175-200 ° F for approximately four to five hours using pecan or hickory wood. The andouille may then be frozen and used for seasoning gumbos, white or red beans, or pastas - or for grilling as an hors d'oeuvre.
Recipe by:
Chef John Folse
Louisiana's Premier Products and Boudin recipes at French and Cajun sausage
The Evolution of Cajun & Creole Cuisine
Chef John Folse and Company, 1989.
Chef Folse, former president of the American Culinary Federation and multiple award-winner for his cuisine, is the owner and chef of Lafitte's Landing Restaurant in Donaldsonville, Louisiana. This marvelous book is more than a cookbook -- it explores the history and evolution of the cuisine, and puts the food in a historical and cultural perspective, a setting that is unfortunately rare in many regional and "ethnic" cookbooks. With dishes old and new (and all luxurious), you can't go wrong with this book.
Plantation Celebrations
Chef Folse celebrates the fine cuisine as served on the great plantations, in the great plantation homes along the River Road.
---
Crispy and Southern style:
You cut up the chicken. If you are concerned about the skin, remove it. Pour equal amounts of flour and cornmeal into a gallon ziplock bag along with the seasonings. Pour some milk into a bowl and mix in a couple raw eggs. Put several spoons of mustard onto a saucer and spread it out. Soak the chicken a few pieces at a time in the milk and eggs. Take them out of the bowl and put them in the bag of flour mixture. Shake up the bag and coat the milk-covered chicken with the flour stuff in the bag. Take it out of the bag and dip it into the mustard. Repeat the process several times. Make sure the chicken is in the bag with the flour last. Put it in single layers (not touching or on top of each other).

Let it stand on a plate at room temperature while you turn the peanut oil on in a large frying pan and let it get hot, real splattering hot. Ideally you have a large frying pan that will hold a LOT of grease/peanut oil. You want the chicken to be covered. Let that oil get sizzling hot. My daddy used to put a wooden match into the grease. When the match lit up, it was hot enough to cook.

Put the chicken a few pieces at a time into the hot peanut oil and let it get brown on one side. Turn it over and let it get brown on the other side. When both sides of the chicken are brown take them out and put it aside.

After all the chicken is brown on both sides, turn the fire down very low. Let the grease cool down quite a bit. Put all the chicken in the pan and cover the pan with a lid. Let the chicken cook about 15 or 20 minutes until it is tender down to the bone. Remove a piece of chicken from the pan and peal the meat away from the bone with a fork. If the meat is red near the bone, it is not done yet.

Take the chicken out of the pan when it is done and set it aside on a clean plate. Never put the cooked chicken on a plate that has had raw chicken on it. You could catch salmonella food poisoning and croak.

Take the lid off. Turn the fire up on burner and let the grease get sizzling hot again. Put a few pieces of the cooked chicken back into the hot grease for a few minutes on each side. The inside of the chicken will be tender. The outside of the chicken will be crispy. Put the chicken on a paper towel onto the plate.

Make gravy from about 5 spoons of grease that you leave in the pan. Make the flour and milk paste with a couple tablespoons of all purpose flour and about a cup of hot water or milk. Start out by putting tiny amounts of flour at a time into grease and mixing it in with a spoon until the lumps of flour are gone. Then add the water or milk, and add it to the grease as it is still cooking on low. Pour in some Kitchen Bouquet. Stir frequently adding more milk to make it thinner more flour and water to make it thicker. Pour in some seasonings.

This same recipe works for deer, rabbit, and squirrel. Cook the rice. Drink beer and eat.

From Cajun Cook


Antoine's Restaurant Cookbook, Since 1840: A Collection of the Original Recipes from New Orleans' Oldest and Most Famous Restaurant
Guste, Roy F. Jr.
---
Can't find what you're looking for? Write me!

Italian recipes | Cooking Entrance | SpycèWorks Entrance

©1999-2001 SpyceWorks